Three of my favorite things:
1) My family, 2) Writing, and 3)Reminiscing by looking through old photos
This is why I love scrapbooking. I get to combine all 3 of those things.
Ethan turned 5 this last weekend and I wanted to see if I could get his scrapbook up to date by his birthday.  I had finished a couple of layouts, but I had not done much since his birthday last year. We keep all our photos in Picasa on our computer. I browsed through the months and started thinking about what really characterized Ethan this past year, how he liked to spend his time, what he was  excited about, and the big milestones. The main question I kept in mind was "What do I want to remember about Ethan from this year?" I picked photos based on the answers to that question. It was an incredibly freeing way to choose photos. We have hundreds of them and it can easily be overwhelming. Narrowing down the choices this way made it much more enjoyable. And, because we have the photos on our computer, I'm not losing the photos I didn't print. They are still there.
Although, I prefer to put my scrapbooks together chronologically, this approach allows for more freedom than just scrapping one event after another. I did layouts on relationships between Ethan and his siblings. I did a page just about what he likes and doesn't like. I did one page on his obsession with video games. The focus was on telling Ethan's story and not just show-casing fancy paper, stickers or the latest scrapping technique. I love all of those things, but they can get in way of actually getting things done sometimes. I'm focusing on simplifying so the photos can spend less time in boxes or on the computer and more time in the kids' albums. Even at the ages of 3 and 5, Audrey and Ethan ask me to read "their" books. I have a few pages to wrap up still, but here are some of the highlights:
Ethan got a brother!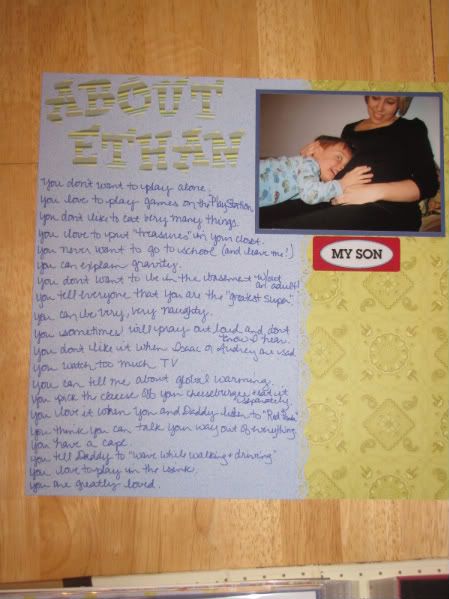 I love this page of things about Ethan. They are the sort of things you think you'll always remember when you're living it, but are actually easy to forget as they grow.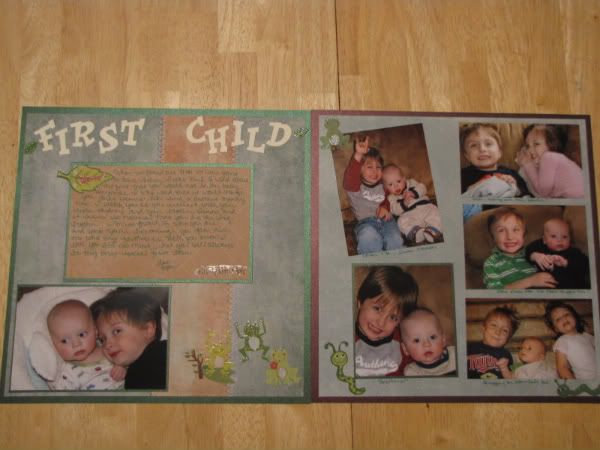 2-page spread on Ethan as the first-born. I wrote about what it was like to see him become a big brother and how he often asks who I love the best!
A close/cropped shot of the journaling (I know it's still hard to read- sorry).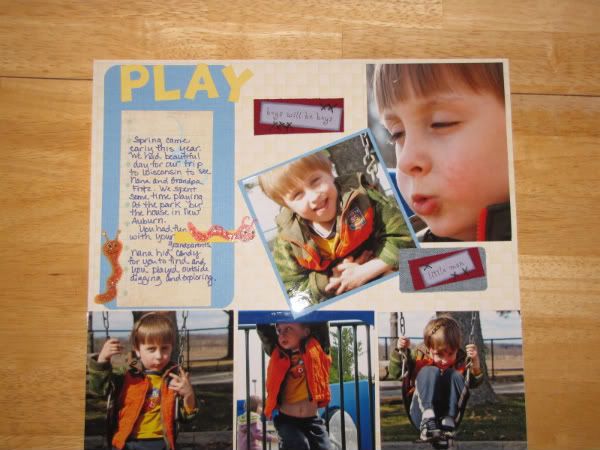 Documenting a trip to Chetek.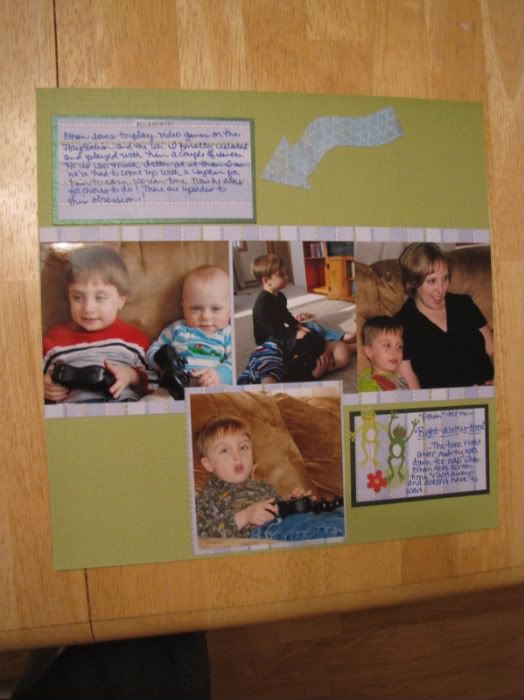 The picture of this page isn't as clear. It's an entire page of photos of Ethan playing the Wii/PlayStation. I wish I could say all he did was look at books and build things, but this is our life. It's something he loves and I thought I should document it.
This approach took the focus off of the paper and embellishments and put it on the story. The journaling became more important. You might not be able to read them all, but I did a considerable amount of writing on each page. As much as I have had to force myself to journal on the kids' scrapbooks, I have to admit that has been Ethan and Audrey's favorite parts when we look through their albums. It's quickly becoming my favorite part too. Our blog archives have become a great resource as I think of what to write. Another awesome source of inspiration has been the book writing motherhood by Lisa Garrigues. It's full of tips and writing prompts specifically geared toward helping mothers "mine their everyday lives for stories to preserve, publish, or pass on."